Samsung
📍Locate Us | 📞Call 0280113119 / 0437774119 | 💬Live Chat 👀 | email : 💌 ask+help@SydneyCBDrepairCentre.com.au
If your Galaxy S23's screen is cracked or damaged, rest assured that there's no need to worry.
Our team of highly skilled technicians is fully equipped with the expertise and experience to handle any screen repair with utmost precision and care. Whether it's minor scratches or a severely shattered display, we address all issues with confidence and unwavering commitment.

At the core of our service lies the exclusive use of high-quality components and tools for your Galaxy S23 screen replacement. We take immense pride in our dedication to delivering excellence, ensuring that your phone will be restored to its original state of perfection. Furthermore, we back our work with a robust 90-day warranty on all repairs, ensuring optimal functionality well beyond the repair.

To avail our Galaxy S23 screen replacement service, simply schedule an appointment online or visit our Sydney CBD Repair Centre. Operating hours spanning from Monday to Saturday for your convenience, we are committed to completing most repairs within an hour. Alternatively, you can choose to mail in your phone, and we'll expedite its return promptly.

Don't allow a damaged screen to hinder your Galaxy S23 experience any longer. Get in touch with us today and entrust your phone to our efficient and reliable repair services.

When your Galaxy S23 encounters a cracked or damaged screen, rest assured that the Sydney CBD Repair Centre specializes in delivering swift and dependable screen replacement services, tailored perfectly to your device. Our dedication extends to the exclusive use of genuine parts and the expertise of skilled professionals to ensure exceptional results.

Rest easy, knowing that your screen replacement will be seamlessly executed, often completed within just an hour. Furthermore, you can confidently rely on us to preserve the functionality of your fingerprint sensor, ensuring flawless integration with the new Galaxy S23 screen.

Whether you choose to visit our physical store or book an appointment online, rest assured that every aspect will be meticulously managed. Your Galaxy S23 will be returned to you with a flawless new screen and a generous 3-month warranty.

Put your trust in the Sydney CBD Repair Centre for all your Galaxy S23 screen replacement needs.

Our unwavering expertise and commitment guarantee a swift and hassle-free resolution that exceeds your expectations.
Share
Local (& Global) Community Proven 👍 Phone Repair Service
View full details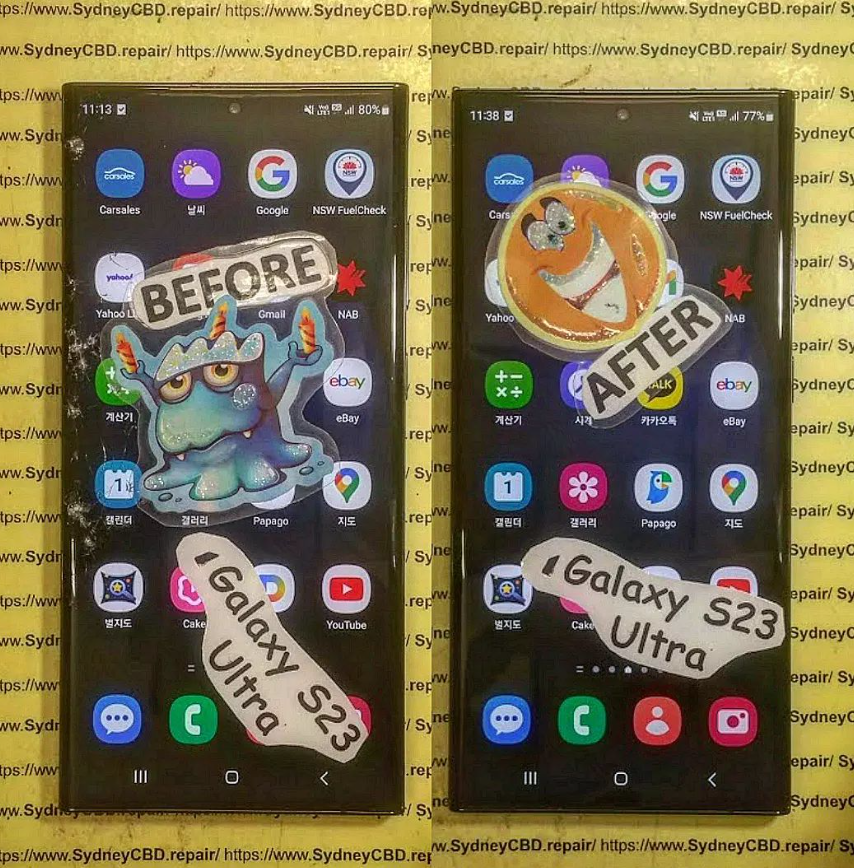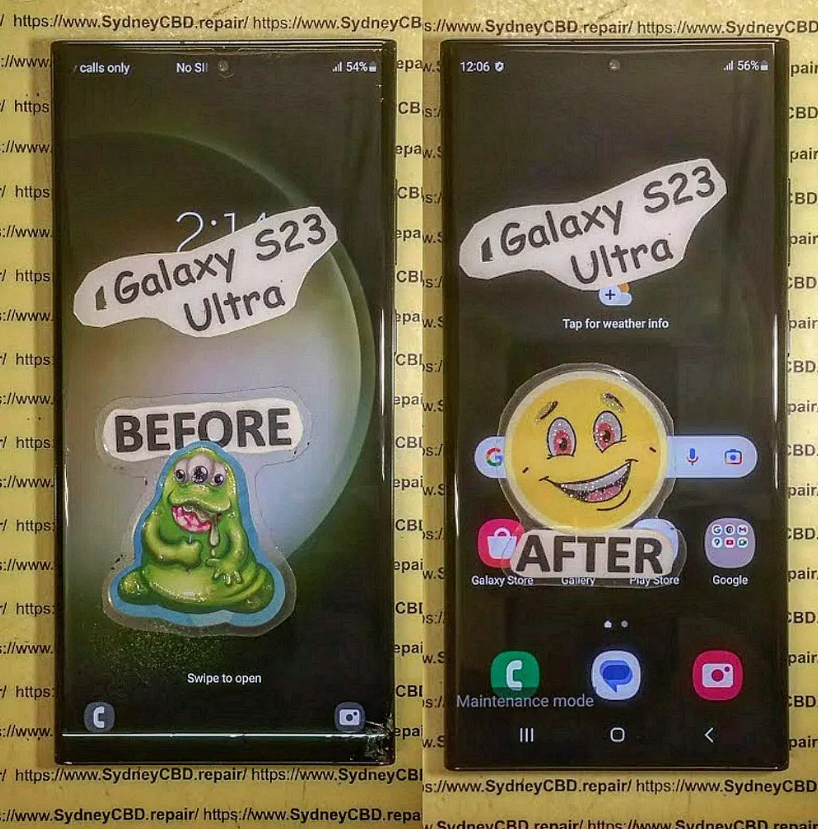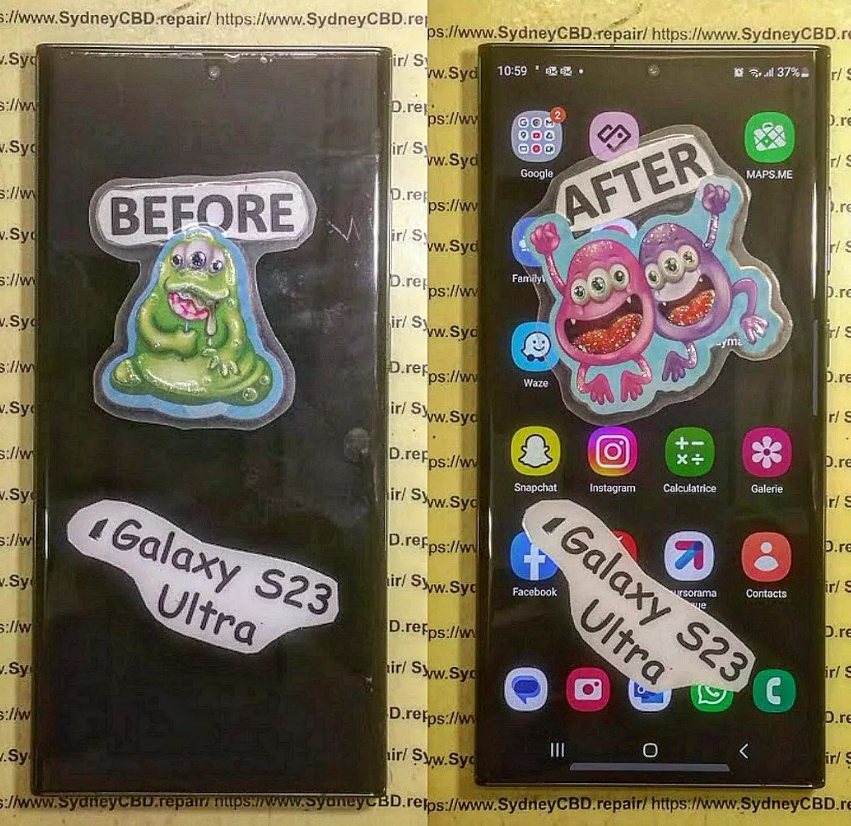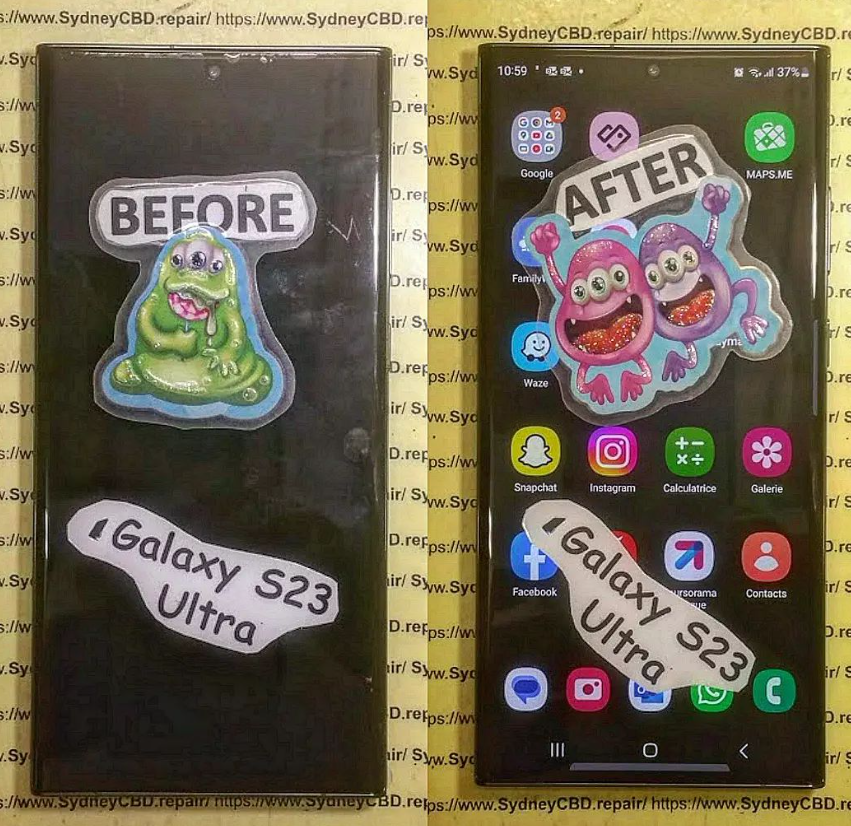 For anyone in need of Galaxy screen replacement, I highly recommend
I had an amazing experience at Sydney CBD Repair Centre for my Galaxy screen replacement! Their service was lightning-fast and incredibly reliable. They used genuine Samsung Galaxy screens, ensuring the highest quality repair.

David and his team are true experts, working seamlessly to deliver exceptional results. They thoroughly checked everything to ensure my device was in perfect working order before I left the shop.

For anyone in need of Galaxy screen replacement, I highly recommend Sydney CBD Repair Centre. Their top-notch service and attention to detail will leave you impressed. They surpassed all my expectations, and I'm thrilled with the flawless screen replacement they provided!
-- Janny K** --
See More 1700 Positive Reviews On Google
Would Definitely Recommend!!
Staff were friendly. The service was efficient & speedy. We were told that if they found anything else to be fixed they would contact us first which instills trust. On returning to collect the mobile the staff were patient & helpful. Would definitely recommend!!
-- Margaret C** --
See More ⭐⭐⭐⭐⭐ Positive Reviews On Facebook