Samsung
📍Locate Us | 📞Call 0280113119 / 0437774119 | 💬Live Chat 👀 | email : 💌 ask+help@SydneyCBDrepairCentre.com.au
If your Galaxy S21 Ultra is facing a damaged screen, there's no reason for concern.
Our team of highly skilled technicians is fully equipped to handle a wide range of repair needs, from minor scratches to severely shattered displays. You can be confident that our unwavering commitment to quality drives us to use premium replacement parts, ensuring your screen replacement not only restores optimal functionality but also returns your phone to its original impeccable condition.

Whether you prefer to schedule an appointment or visit our Sydney CBD Repair Centre directly, you can expect a seamless and efficient service experience. Our primary goal is to complete the majority of repairs within an hour, minimizing any inconvenience caused by the compromised screen.

If mailing your phone to us is more convenient, rest assured that we'll promptly return it to you in its fully restored state. Our proven track record of delivering efficient and reliable repairs instills confidence in our ability to achieve outstanding results. Your Galaxy S21 Ultra will be returned to you with a brand-new screen, accompanied by an extensive 3-month warranty to ensure your peace of mind.

When it comes to resolving any concerns related to your screen, choosing Sydney CBD Repair Centre guarantees a hassle-free resolution with exceptional results.
Share
Local (& Global) Community Proven 👍 Phone Repair Service
View full details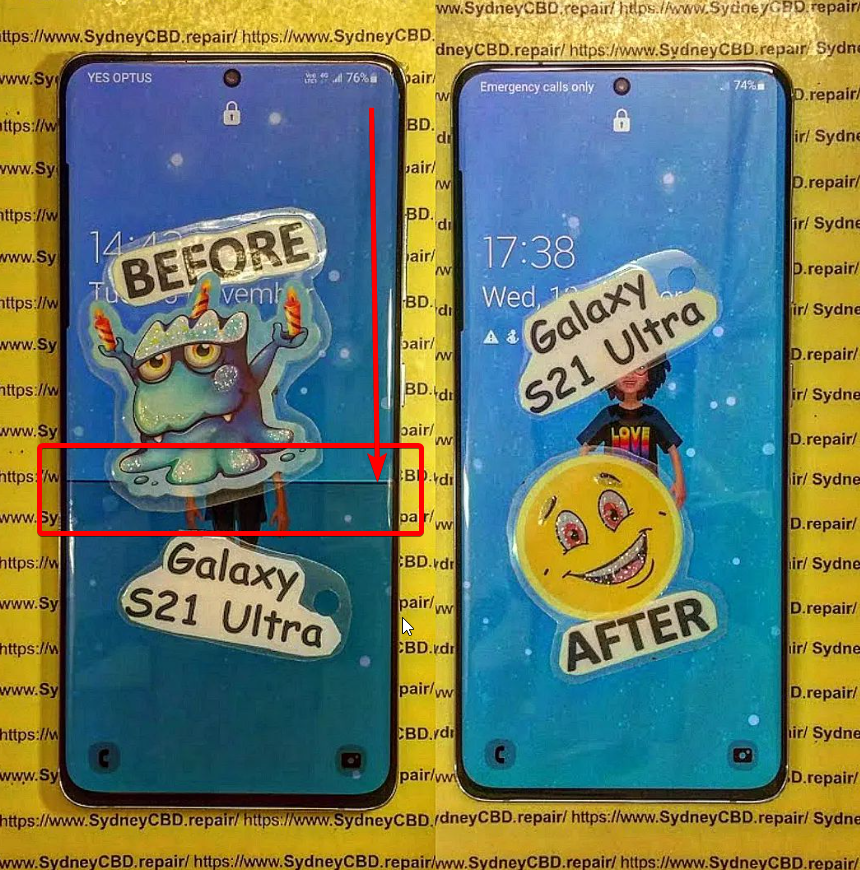 For anyone in need of Galaxy screen replacement, I highly recommend
I had an amazing experience at Sydney CBD Repair Centre for my Galaxy screen replacement! Their service was lightning-fast and incredibly reliable. They used genuine Samsung Galaxy screens, ensuring the highest quality repair.

David and his team are true experts, working seamlessly to deliver exceptional results. They thoroughly checked everything to ensure my device was in perfect working order before I left the shop.

For anyone in need of Galaxy screen replacement, I highly recommend Sydney CBD Repair Centre. Their top-notch service and attention to detail will leave you impressed. They surpassed all my expectations, and I'm thrilled with the flawless screen replacement they provided!
-- Janny K** --
See More 1700 Positive Reviews On Google
Would Definitely Recommend!!
Staff were friendly. The service was efficient & speedy. We were told that if they found anything else to be fixed they would contact us first which instills trust. On returning to collect the mobile the staff were patient & helpful. Would definitely recommend!!
-- Margaret C** --
See More ⭐⭐⭐⭐⭐ Positive Reviews On Facebook