Samsung
📍Locate Us | 📞Call 0280113119 / 0437774119 | 💬Live Chat 👀 | email : 💌 ask+help@SydneyCBDrepairCentre.com.au
If your Galaxy Note 20 has a cracked or damaged screen, rest assured that there's no cause for concern.
Our adept technicians possess the expertise and experience to handle screen repairs swiftly and accurately. Whether it's minor scratches or completely shattered displays, we confidently address all issues with meticulous care.

You can be confident that we exclusively utilize high-quality parts and tools for your Galaxy Note 20 screen replacement. Our unwavering commitment to excellence ensures the complete restoration of your phone to its original condition. Furthermore, we stand by our work with a generous 90-day warranty on all repairs, guaranteeing optimal functionality.

To make the most of our Galaxy Note 20 screen replacement service, simply schedule an appointment online or visit our Sydney CBD Repair Centre. With operating hours conveniently spanning from Monday to Saturday, our aim is to complete most repairs within one hour. Alternatively, should you prefer, you can opt to mail in your phone, and we will promptly expedite its return to you.

Don't allow a damaged screen to impede your Galaxy Note 20 experience any longer. Reach out to us today and confidently entrust your phone to our efficient and reliable repair services.

When your Galaxy Note 20 is plagued by a cracked or damaged screen, you can put your worries to rest. Sydney CBD Repair Centre excels in providing quick and dependable screen replacement services tailored specifically to your Galaxy Note 20. We take pride in utilizing only genuine parts and entrusting skilled professionals to deliver exceptional results.

Rest assured that your screen replacement will be flawlessly executed, typically completed within just one hour. Furthermore, you can depend on us to preserve the functionality of your fingerprint sensor, ensuring its seamless integration with the new Galaxy Note 20 screen.

Whether you opt to visit our physical store or prefer the convenience of booking an appointment online, rest assured that every aspect will be diligently handled. Your Galaxy Note 20 will be returned to you boasting a flawless new screen and accompanied by a generous three-month warranty.

Put your trust in Sydney CBD Repair Centre for all your Galaxy Note 20 screen replacement needs.
Our expertise and commitment guarantee a swift and convenient resolution, free of any hassle.
Share
Local (& Global) Community Proven 👍 Phone Repair Service
View full details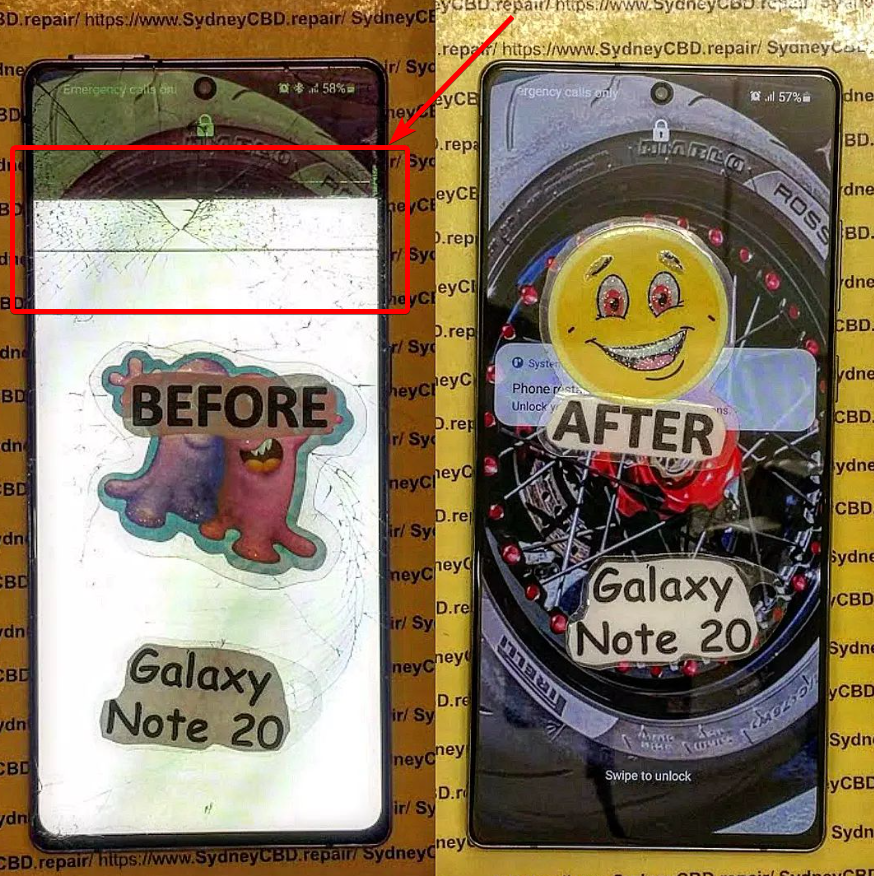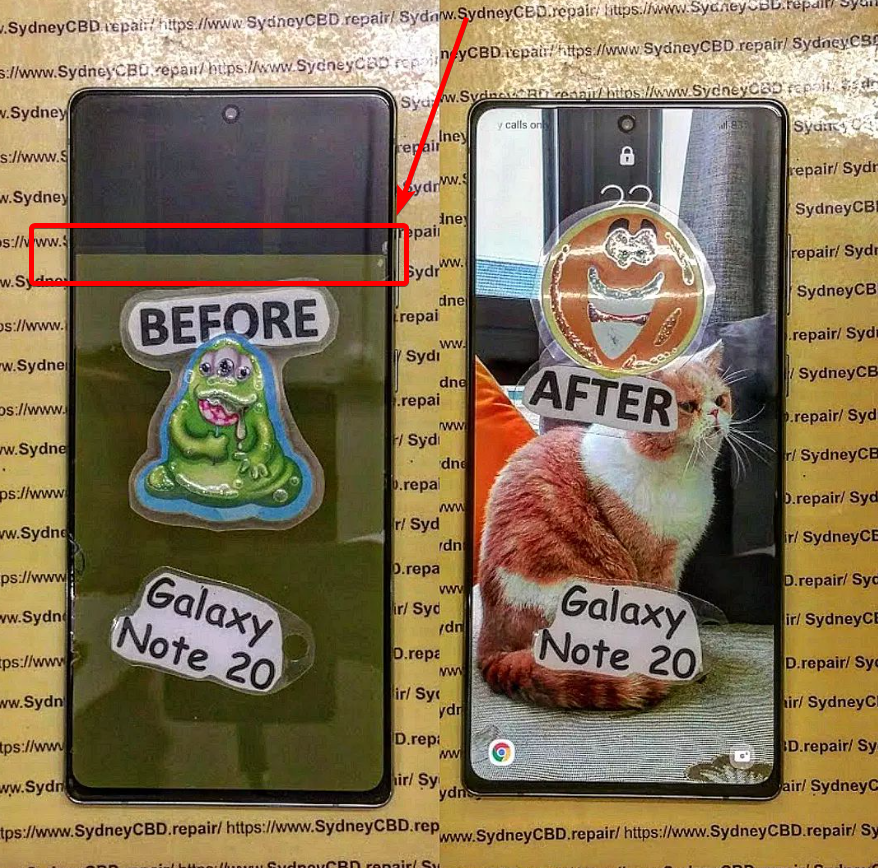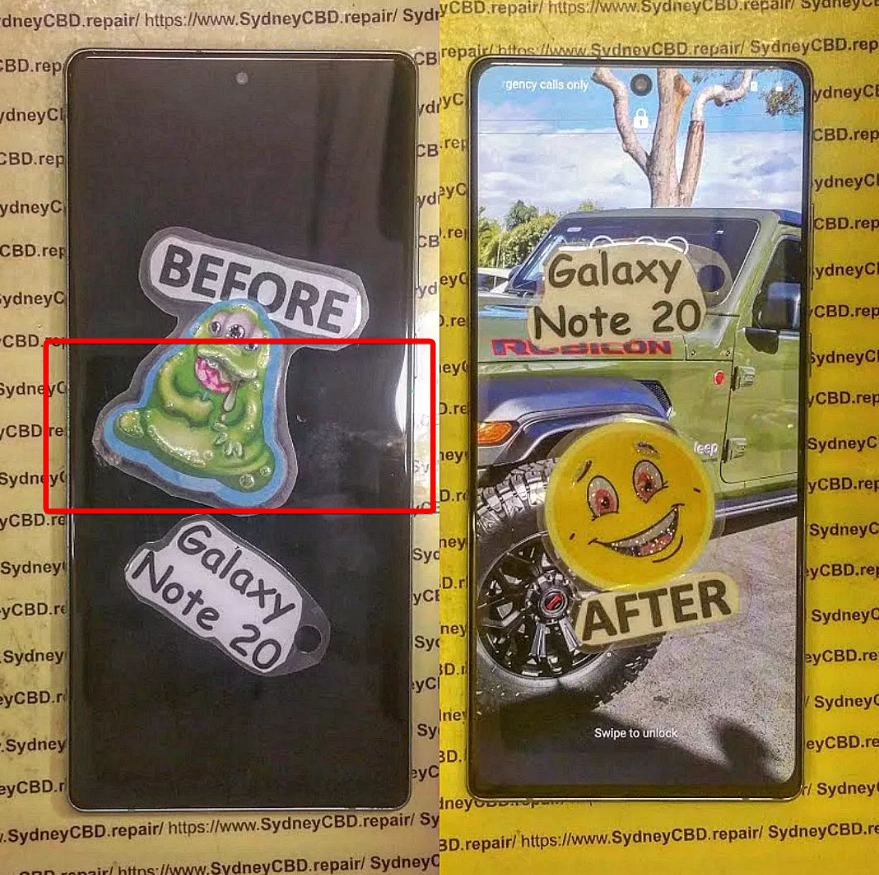 my Galaxy Note screen replacement was simply awesome!
I gotta say, my experience at Sydney CBD Repair Centre for my Galaxy Note screen replacement was simply awesome! These guys are lightning-fast and totally reliable. They used genuine Samsung Galaxy Note screens, so you know it's gonna be a top-notch repair. David and his team are real pros, working seamlessly to get me exceptional results. They made sure everything was in tip-top shape before I left the shop. If you need Galaxy Note screen replacement, don't think twice - hit up Sydney CBD Repair Centre. Their service is top-notch, and they pay attention to every little detail. Seriously, they went above and beyond my expectations, and I'm totally stoked with the flawless screen replacement they did!
-- Tonny W**--
See More 1700 Positive Reviews On Google
Would Definitely Recommend!!
Staff were friendly. The service was efficient & speedy. We were told that if they found anything else to be fixed they would contact us first which instills trust. On returning to collect the mobile the staff were patient & helpful. Would definitely recommend!!
-- Margaret C** --
See More ⭐⭐⭐⭐⭐ Positive Reviews On Facebook