Asus
📍Locate Us | 📞Call 0280113119 / 0437774119 | 💬Live Chat 👀 | email : 💌 ask+help@SydneyCBDrepairCentre.com.au
Having encountered a cracked screen on your ROG Phone 6?
Be reassured, as we are fully equipped to address your needs completely!

Rely on our unparalleled proficiency when it comes to repairing your ROG Phone 6. Our team of highly skilled technicians utilizes only the highest quality replacement components, ensuring a flawless restoration of your phone to its original pristine state. Rest easy knowing that our repair service is backed by a robust 3-month warranty.

In fact, we are so confident in our exceptional craftsmanship that we offer expedited same-day repairs for the majority of screen-related issues. Whether your phone suffered an accidental drop or an unforeseen aerial mishap, we will promptly rectify the situation and return your device to your hands without delay.

We understand the frustration caused by a damaged screen, and thus, we go above and beyond to provide a fast and trouble-free experience. Our conveniently located drop-off center in Sydney CBD, along with our attentive team ready to address your inquiries and schedule repairs, showcases our unwavering commitment to your convenience.

In addition to top-tier screen repairs, we take pride in offering a comprehensive range of services, including battery replacements, charging port fixes, and speaker repairs. No matter the challenge you are facing, we possess the expertise to aptly resolve it.

**Do not hesitate—get in touch with us today to experience a seamless ROG Phone 6 screen repair!**

Swiftly, we will rejuvenate your phone, restoring it to its optimal condition and ready to serve you once again.
Share
Local (& Global) Community Proven 👍 Phone Repair Service
View full details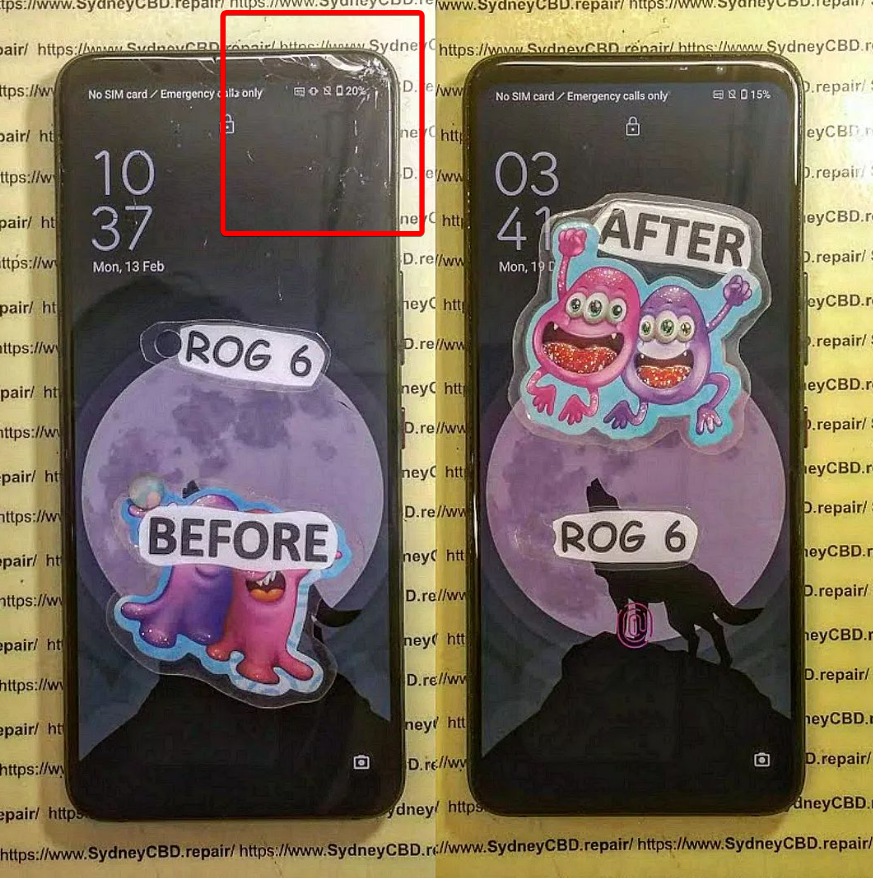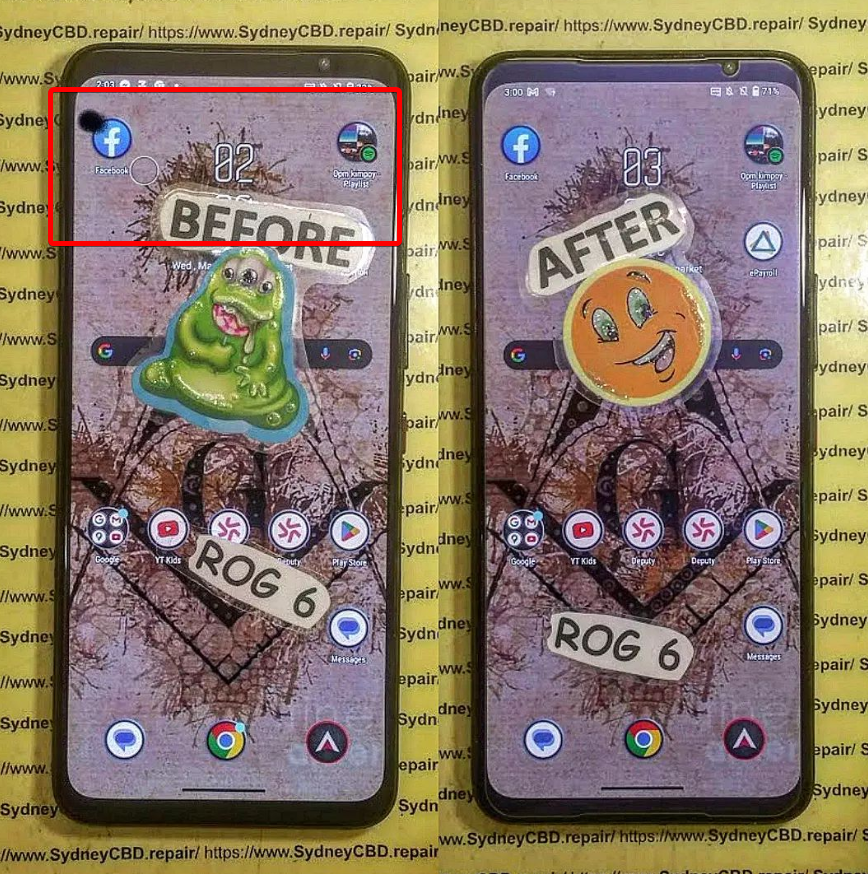 Highly recommend to anyone!
I dropped my ASUS ROG 2 on Tuesday and my screen was just black no physical damage all internal, I couldn't find anyone to fix it in Canberra and I stumbled up on this YouTube video that was fixing a asus rog 2 with a broken screen, looked at the account name Sydney CBD repair clicked on there link took me to there website and chatted to someone online, shipped it off Wednesday morning with express shipping & got it back Thursday afternoon. Thank you so much Sydney CBD repair team! Highly recommend to anyone!
- Alec K***-
See More 1700 Positive Reviews On Google
WTF???..They can do the impossible. OUTFUCKINGSTANDING.
Can't say enough...I stuffed my screen on an ASUS ROG PHONE 2... Not a common phone. I Xpress posted it from Batemans Bay midday Monday and it was screen replaced and returned to early Wednesday morning not even 2 days... WTF???..They can do the impossible. OUTFUCKINGSTANDING.
U blokes ☀️👍
-- BlackMan B** --
See More ⭐⭐⭐⭐⭐ Positive Reviews On Facebook